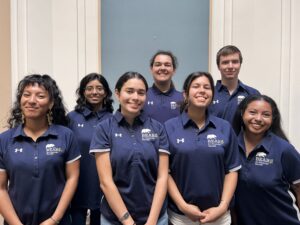 We are a peer-to-peer financial wellness program housed in the Financial Aid and Scholarships Office at UC Berkeley. We offer workshops and one-on-one appointments to help students manage their personal finances in college and beyond. Connect with us through our student-run blog and on Facebook!
One-On-One Appointments
Meet with a financial wellness peer educator in person or via Zoom to help you understand your personal finances. Once you schedule an appointment online, we will send you a calendar invitation with the meeting information. Peers can answer basic money management questions and help you create a personal spending plan.
If you'd like to schedule a presentation for a student group, please do so here. If you'd like to ask a quick question that does not require an appointment, please email us at bffs@berkeley.edu. Please note that we do not do financial aid counseling.
Our Mission
For many college students, money can be an extremely important and sometimes stressful topic. We know that understanding how to manage your money is an important part of your success as a student and as a UC Berkeley alum. Our mission is to give all Berkeley students the tools and resources that will empower them to make informed financial decisions now and in the future.
Six Steps Toward Financial Success
Creating and following a spending plan is the most important steps in a road to financial success and good practice. It will allow you to effectively manage your finances and determine where to best spend your money.
Managing Debt can be difficult, and often a financial burden that can become stressful. However, there are effective ways to keep track and get rid of debt. In addition, learn about good debt vs. bad debt.
Get details on saving options and why it's important to "pay yourself first." Saving is an important part of good personal finance practice and an important part of successfully meeting your short-term and long-term goals!
Understanding Credit can be difficult and is often an area in personal finance that carries a variety of myths. Building good credit can increase your purchasing power and benefit you greatly in the future.
Before applying for a credit card, consider the advantages and disadvantages of using one and be sure to understand the fine print.
Identity theft is a widespread problem that could have serious consequences for your financial health and credit history. Learn about ways to protect your identity, and the steps required to take in the event of an identity theft.
Other Resources
Take control of your financial literacy with our newest self-help tool: iGRAD
Resources for graduate students: GradSense, Access Group
Meet Our Team
Peer Educators:
Anshika Ojha, Grace Hunzicker, Jacqueline Nguyen, Jonathan Ferrari, Mindy Nguyen, Rafael Villasenor, Simone Beilin, Victoria Cantrell, Victoria Dinov
Program Coordinator:
Elsy Lewis
Program Manager:
Anne Xiong